Connie Book has officially completed her first day as Elon University's ninth president. Below are updates of the various events of throughout the day.
Update: Thursday, 11:35 p.m.
Video by Selina Guevera
Connie Book ended her first day as president of Elon University at the 7 p.m. women's basketball game. To conclude its final season in Alumni Gym, the Phoenix secured a 21-point victory against the College of William & Mary.
Book was seated in reserved section 107 of the Alumni Gym with a variety of selected students and staff to watch the game. Her night was filled with lots of cheering, popcorn and laughs.
"I feel so welcomed by this community," Book said. "It was a lot of fun tonight to be able to relax and watch a great basketball game. Just the end of a great day."
During the halftime break, Book recognized notable alumni athletes for their contribution to Elon's sports on the court.
Book said she is excited to provide leadership to the Elon community and was proud to cheer on the women's basketball team tonight.
Book also had a chance to socialize one-on-one with students while watching the game. Talking to students, she learned about where they are from, their majors and their study abroad experiences.
"One thing about Elon, it's a place where it creates opportunity, so people can do things that they dream about doing," she said.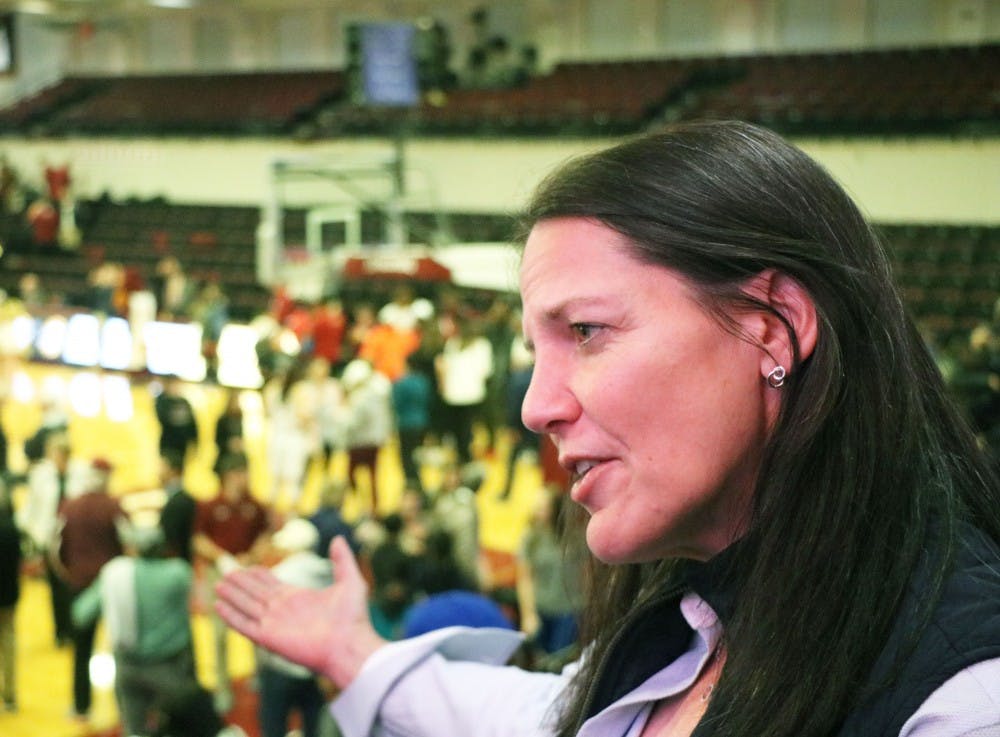 Update: Thursday, 7:05 p.m.
Book headed over to Jordan Gym for a tailgate before the final women's basketball game in Alumni Gym. The tailgate started at 5:30 p.m., and Book spent the first hour meeting with faculty members and their families.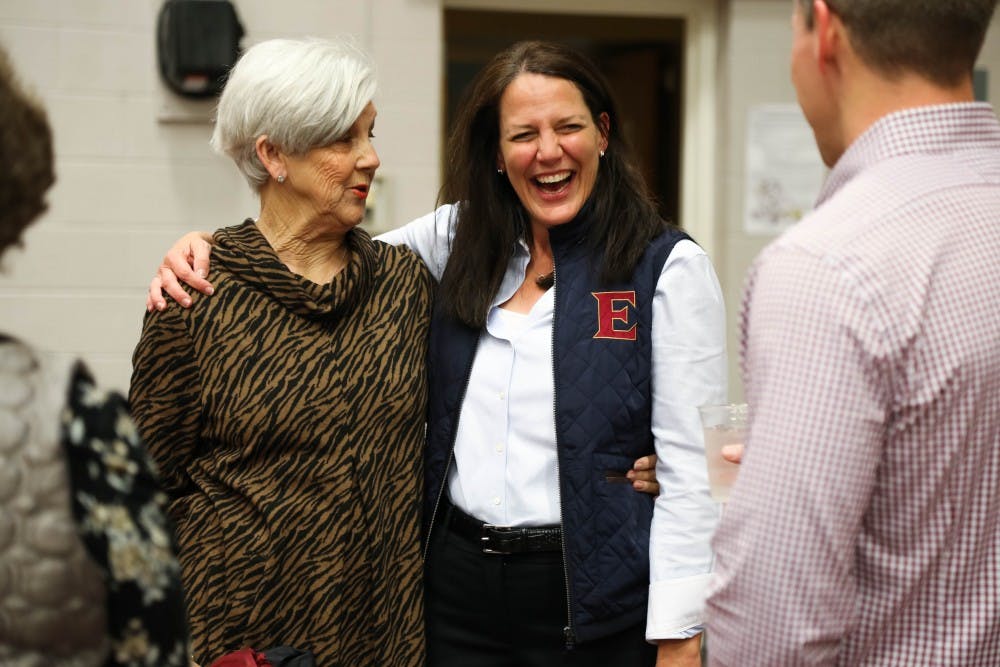 Senior Evan Seder said he is excited to have Book be the first female president of Elon.
"I think she has what it takes," he said. "She knows where we have been in the past and what we want to do."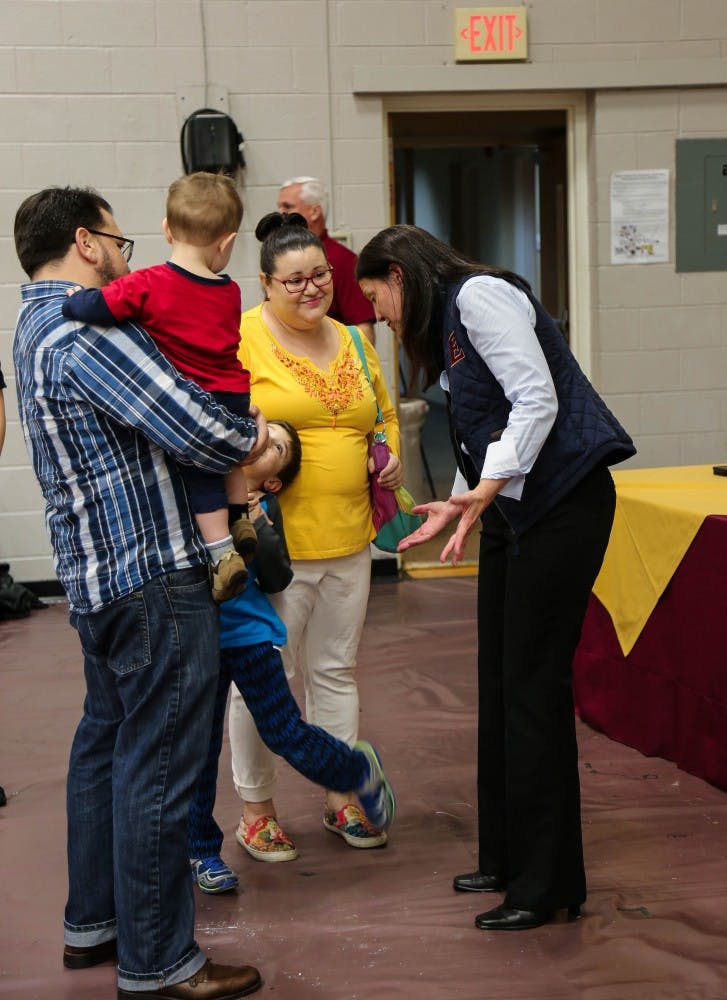 Faculty members such as John Barnhill, assistant vice president of university advancement, had some advice to give the new president.
"Keep up the good work in the tradition that you have already seen, and keep pushing Elon and pulling Elon forward," he said.
Update: Thursday, 1:30 p.m.
Book stopped by Lakeside Dining Hall halfway through her day to chat with students over lunch.
Between 12:00 p.m. and 1:00 p.m. she roamed from table to table taking some time to get to know Elon students.
Freshman Faith Spino thought Book was getting things rolling in the right direction by stepping out of the office and into the lunchroom.
"This really sends a good message to students that she is stopping to meet students where they're at," she said.
Others, like freshman Rachael Wesolowski, enjoyed getting to know Book – even if just for a few seconds.
"She's really nice and showed a lot of interest in talking to us really about anything from school to sports," Wesolowski said.
Update: Thursday, 12:30 p.m.
Book formally addressed Elon for the first time as president in front of a packed crowd at the Great Hall in Global Neighborhood.
"I love this community, I understand the power of it and I promise I'll do my very best," she said.
She was introduced by vice president emerita Jo Watts Williams '55 and freshman class president Cam Waddell, who were immediately followed by video messages from three alumni who said they hope Book continues to create opportunities for inclusion and a global perspectives for Elon.
Book specifically said she wants to focus on continuing civic engagement, making Elon as affordable as possible and addressing mental health.
"Together we have the opportunity to build a university that keeps creating a higher standard," she said.

"We have exciting and challenging work ahead of us. I want us to make sure that we are always a community that takes care of one another."
Update, Thursday, 9:39 a.m.
Crews set up in the Great Hall ahead of President Connie Book's "Imagining What We Can Do Together event."
Update, Thursday, 8:10 a.m.
Here's a full look of Connie Book's first hour as president.
Update, Thursday, 7:29 a.m.
Update, Thursday, 6:44 a.m.
Book told ENN she feels, "a sense of responsibility" ahead of her formal introduction on campus.
"There's a lot of students here, a lot of employees and I want to do the very best I can."
Update, Thursday, 6:07 a.m.
Book stepped on campus for the first time as president at 5:54 a.m. in the Koury Athletic Center.
"I was anxious, I set my clock early," Book said.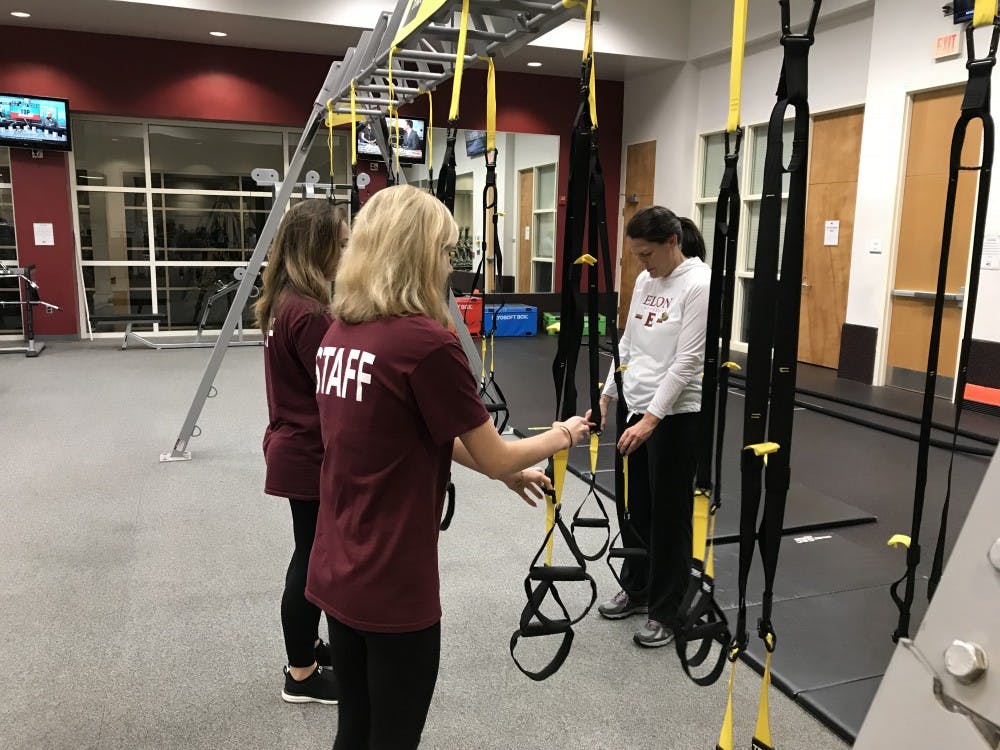 "It did have a little feeling of surreal," she said. "It's exciting and as I walked on I thought what a beautiful campus. How lucky am I?"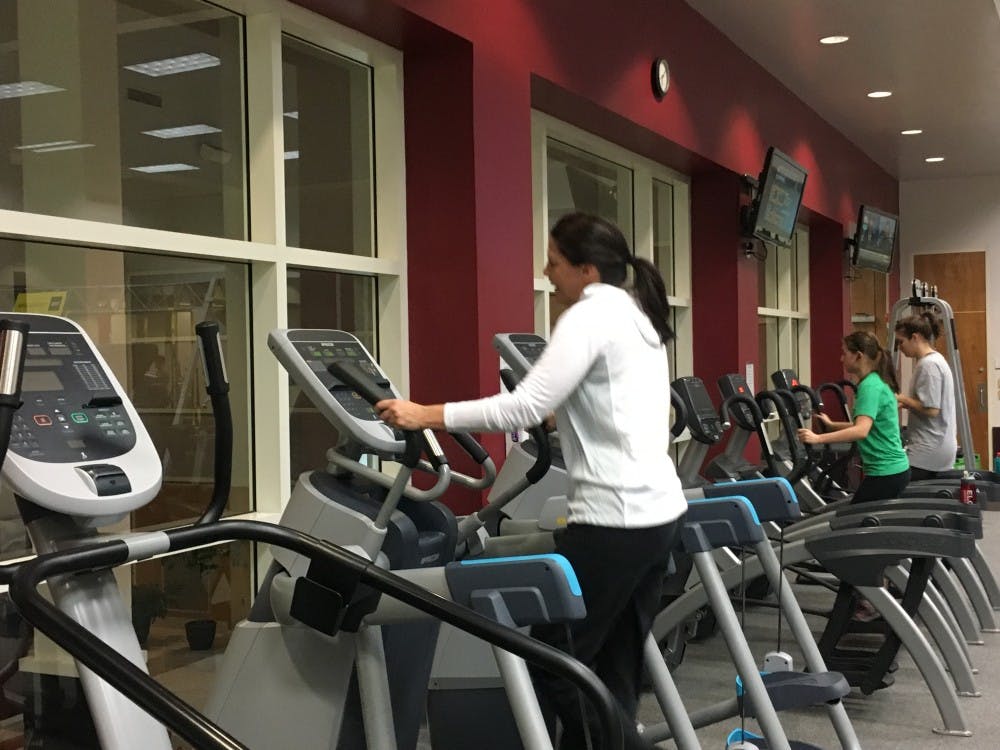 Book will be formally welcomed to campus at 9:40 a.m. in the Great Hall in the Global Neighborhood.
---