When the Republican presidential frontrunner Donald Trump sold his entire stock of the Miss Universe Organization in September, it appeared as though the 2015 pageant would be free of controversy.
But a critical error in which host Steve Harvey incorrectly announced this year's Miss Universe winner is drawing widespread criticism.
Minutes after announcing Colombia as the Miss Universe winner, he realized he had made a huge mistake.
#MissUniverse2015 ending pic.twitter.com/GvppeIJAnH

— Jeanie D. (@pcbeachlaw) December 21, 2015
Harvey read the "first runner up" section of the results card and declared the first runner up as the winner. Upon further review, the bottom right hand corner of the ballot revealed the Philippines had won.
"I will take responsibility for this," Harvey said. "It was my mistake. It was on the card."
The drama, however, remained following the end of the show. Harvey sent out an apology tweet in which he had incorrectly spelled the countries Colombia and Philippines.
Although he deleted the tweet about 25 minutes later, the power of the screenshot took full effect on social media.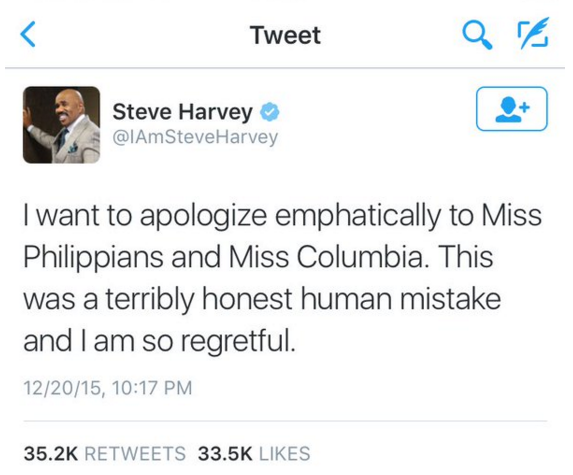 But after 20 minutes, Harvey finally corrected the mistake of his mistake.
I'd like to apologize wholeheartedly to Miss Colombia & Miss Philippines for my huge mistake. I feel terrible.

— Steve Harvey (@IAmSteveHarvey) December 21, 2015
Harvey later tweeted, "I don't want to take away from this amazing night and pageant. As well as the wonderful contestants. They were amazing."
It's live television. Mistakes happen. The question that remains: how long will it take until people decide to move on?
---