The national Never Again movement to stop school shootings came to Elon University's campus tonight. Students Brendan Duff and Theresa Prayther, alumni of Marjory Stoneman Douglas High School organized a vigil in honor of the 17 people who died at Parkland High School on Feb. 14.
Originally, the candlelight vigil was supposed to take place on the front steps of Moseley Center. But due to inclement weather the event was moved to McKinnon Hall.
Students, faculty and staff gathered inside the hall in a circle. Throughout the night, Duff and Prayther spoke about their personal experiences with the shooting in Parkland.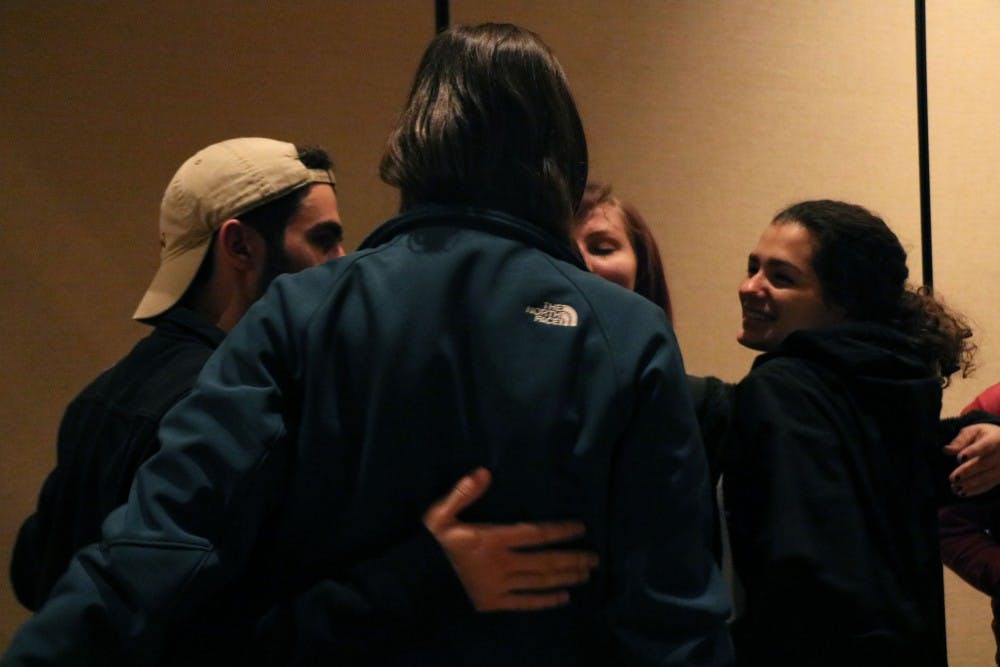 Prayther shared about how she knew students who had died that day in Florida and how she had never thought she would ever see officers at her high school. She then read the names and stories of the students who died in Parkland.
Duff's brother was at the school the day of the Parkland shooting. He stressed that he wanted to make it known never again should students have to go through what his brother did that day.
"It's just so hard to wrap your head around even for me, that it could happen at that school and that it did," said Duff. "Luckily, with the Never Again movement and the March for Our Lives we have seen that kind of motivation in the community of Parkland and it's been awesome because people are really gearing up for change and people are ready and it's time."
Twisted Measure performed a song in honor of the students and Duff sang along with Stephen Baime and Isabelle Rogers.
L.D. Russell, senior lecturer in religious studies, spoke with university chaplain Jan Fuller. Students for Peace and Social Justice brought a banner to the vigil with the names of everyone who has died in a mass school shooting since 1966.
Prayther was accompanied by her mom tonight. She was wearing a T-shirt that read "Eagles Soar Higher, #MSDSTRONG." The eagles are Stoneman Douglas' mascot.
"Being so helpless and being so useless and not being home with my friends, I really think doing this helps me feel like I'm doing something and also honor my friends and my home," said Prayther.
The March for Our Lives will take place on March 24 around the nation. The closest march to Elon University will be held in Greensboro in LeBauer Park.
---